Even as a young girl, Sahra Abdikarim Ibrahim was interested in information technology and "amazed" that, for instance, a facsimile machine could spit out a copy of a document straight into someone's hands. She vowed to learn more "so as to help people."
"I had the dream to be a technology person and also establish a technology company in Mogadishu," said Abdikarim, 30.
She fulfilled that dream by opening Sostec Inc., which provides web hosting and design services, as well as tech support, to clients including government ministries and local and international businesses.
The entrepreneur launched her firm in 2006, a year after graduating from the University of Science and Technology in Sana'a, Yemen.
"At the time, technology in Mogadishu was in its infancy," Abdikarim told VOA. " … It was even difficult for people to use some services because of lack of knowledge of technology and lack of reliable services."
Problems with access, attitude
Just 1.1 percent of Somalia's largely poor population had internet access then, according to the International Telecommunication Union, whose research showed a tiny increase — to 1.8 percent — as of 2015.
In the mid-2000s, Somali businesses and other internet users complained of having to seek services outside the country, encountering language barriers, high costs and slow response times. Abdikarim saw a niche to provide solutions, she told the independent entrepreneurship group Startup Grind Mogadishu.
Abdikarim herself faced obstacles. As a woman attempting a startup in the male-dominated technology field — a heightened challenge in Somalia's patriarchal society — her abilities came into question.
"People could not believe that a woman could establish" a technology solutions company, she told Startup. "At that time, it was the hardest challenge I faced. … But thanks to Allah, after the people saw the work I could do, they believed it."
Her physician husband encouraged her efforts to develop software and supply other web services. "He supported me throughout in winning this field," Abdikarim said, noting she didn't have to seek outside funding. His work "100 percent covers the finances" for the couple's household, including their four young children. She contributes support for her extended family.
Others depend on Abdikarim, too. Her tech team — which now has 15 employees, including branch operations in the cities of Baidao and Hargeisa, Somaliland — assists businesses, hospitals and government ministries.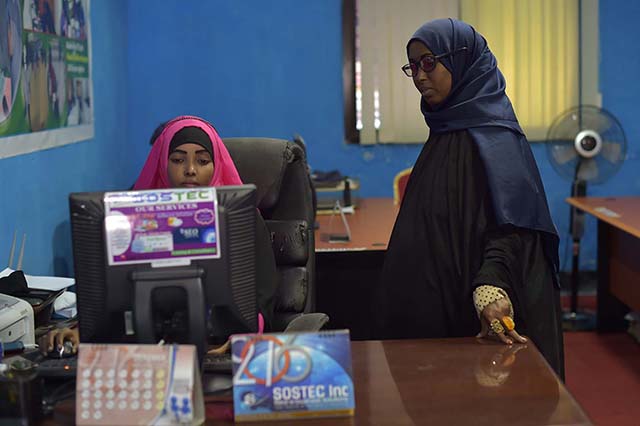 Sahra Abdikarim Ibrahim, standing, oversees a Sostec employee at work in the company's headquarters in Mogadishu. (Photo by Tobin Jones for VOA)
Extending help
In 2015, Sostec rolled out Aflixi, an online education forum encouraging information-sharing on computer science, health science, Sharia, agriculture, civil engineering and more. Abdikarim said the free, ad-sponsored site has at least 9,000 subscribers.
The company also does some philanthropic work. For example, Sostec has set up websites at two schools for the blind, where students use computers to hear audio lessons and write onscreen, gaining access to the internet and social media.
Abdifatah Mohamed Dahir, the principal at Alnur School, confirmed that Sostec "gave us a website without any cost," along with training for teachers.
Through Sostec, Abdikarim assists people — just as she'd pledged long ago.