Video blogger and photographer Mukhtar Nuur captures a scene of young Somalis boating just off Mogadishu's Lido Beach. Nuur shares his work on Facebook, YouTube and Twitter.
In Somalia, "most of the young people have known only conflict and hardship," the United Nations has reported(PDF), noting that, as of 2014, three out of four Somalis were 30 or younger and almost half were under age 15. The mostly Sunni Muslim nation has a fertility rate of 6.4 births per woman — fourth highest in the world — compared with a U.S. rate of 1.8.
Advantages accrue to the few
The young who are formally educated — like Omar, who has a college degree in business administration — are most likely to have smartphones that connect them with opportunities, the Pew Research Center said in a 2015 report on mobile communication in Africa. But most young Somalis can't afford such services. Two-thirds of those ages 15 to 29 are unemployed, according to the U.N. Development Program's most recent data.
Omar depends on internet service to do his job, facilitate his logistics work, "connecting with people [who] are abroad, especially for inventory or making orders." He and his wife pay $50 a month for service that's "kinda slow," he complains. " … I'm a heavy data user. I have to get connected to the world."
Like several other people interviewed for this report, Omar has asked that his surname and some other identifying details be withheld for his safety. In such cases, VOA notes the requests for anonymity. Many Somalis are tight-lipped, mistrustful of the government and wary of non-state armed actors.
Omar weighs security risks against "a whole cost of living that's much cheaper" in Somalia, he says. The balance, at least for now, is in his homeland's favor.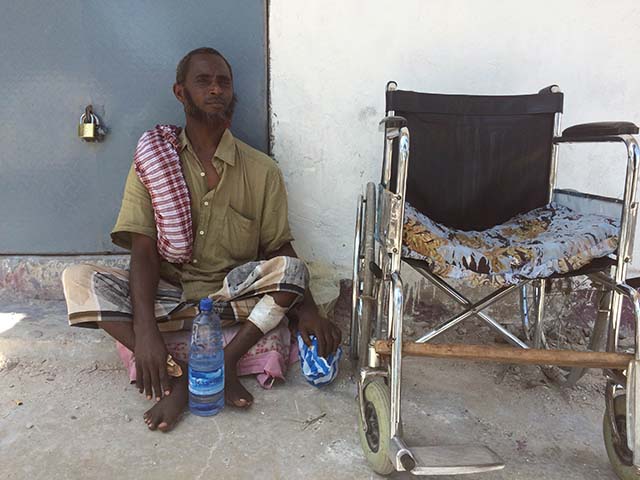 Moallim Abdi Ali typically begs on one of Mogadishu's busiest streets, using a mobile phone to accept money transfers that supplement the Somali shillings and U.S. dollars he collects. (VOA photo)
Managing money via mobile phones
Although internet lies beyond the grasp of many Somalis, even the poor can get their hands on basic mobile phones.
Moallim Abdi Ali, a beggar, uses an old Nokia phone to accept money transfers that supplement the cash he collects on Mogadishu's streets.
Some passers-by donate Somali shillings or U.S. dollars, but "others send the money through the mobile service," Abdi explains. He depends on the contributions, saying he lost the use of his legs as a toddler and suffered a chest injury in June when al-Shabab militants bombed the Ambassador Hotel. He was begging outside.
Mobile banking is widespread in Somalia, introduced by the country's biggest telecom companies in 2010 after the traditional banking system faltered. It's the conduit for remittances that buoy the economy and sustain many households. Relatives and friends in the Somali diaspora in 2015 sent an estimated $1.4 billion, almost a quarter of the country's gross domestic product.
When Omar was living in Minnesota, he sometimes sent money to a family friend in Mogadishu – "$50, $100, whatever I scraped together."
"I did not know the impact [remittances] had," Omar says now. "I did not know it was basically life or death for some people who have no other forms" of support.